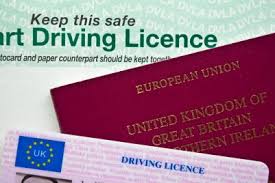 To be able to drive in the United Kingdom you will need a full or provisional licence issued by the Driver and Vehicle Licensing Agency DVLA or a valid international driving permit.
If you are a foreign licence holder and not sure if your licence permits you to drive in the UK then please call: 0300 790 6801 or visit https://www.gov.uk/government/organisations/driver-and-vehicle-licensing-agency
If you don't have a provisional licence you can apply for one here: https://www.gov.uk/apply-first-provisional-driving-licence
Applications for a provisional driving licence can be made from the age of 16.  The provisional licence has conditions attached which are.
L-plates – plates must be displayed on the front and rear of the vehicle.
Learner drivers of a particular category and transmission type of vehicle must be accompanied by somebody aged at least 21 who has held a full driving licence for that category and transmission type vehicle for at least three years and vehicles of certain categories designed solely for one person.
No trailer may be towed, except when driving a tractor or where a full licence gives provisional entitlement to drive a car with a trailer, a large goods vehicle with a trailer or a bus with a trailer.
Motorways must not be used by holders of car provisional licences Motor car licences issued in the United Kingdom distinguish between automatic and manual transmission vehicles dependent upon whether or not a driving test was passed in a vehicle with manual transmission whilst a manual transmission vehicle licence permits the holder to drive a vehicle of either kind, an automatic transmission vehicle licence is solely for vehicles with automatic transmission. The licence also shows if a driver requires glasses or contact lenses to meet the legal driving requirements if known.
There is no maximum age for driving or holding a driving licence, but holders must renew their licences at age 70 and every three years thereafter, at which times they must self-certify their continued fitness to drive
After passing a driving test, the provisional licence may be surrendered within two years in exchange for a full UK licence for the relevant kind of vehicle. There are no restrictions on newly passed drivers but if a newly qualified driver is given six penalty points within two years of passing, the licence is automatically cancelled and the driver must pass the full test again The six points remain on the new licence until their designated expiry time It is optional to display newly passed green on white 'P' plates on the vehicle of newly passed drivers.